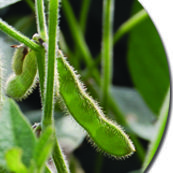 The Delaware Soybean Board administers the federal Soybean Checkoff program in the State of Delaware. Its mission is to improve the profitability of Delaware soybean farmers by conducting research, marketing and educational activities which result in a stronger soybean industry.
DSB sponsors the Plant Management Network's "Focus on Soybean," an online-only web portal for growers, crop consultants, and researchers seeking information on producing healthy, high-yielding soybean crops.
Plant Management Network (PMN) is a not-for-profit, online publishing effort whose mission is to enhance the health, management, and production of agricultural and horticultural crops. PMN achieves this mission by developing science-based resources that help researchers, crop management professionals, consultants, growers, educators, and students make better plant management decisions and recommendations.
To view the current Focus on Soybean webcasts that are available, please click here.