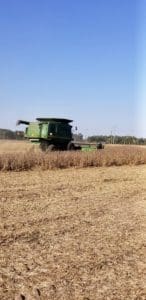 As soybean harvest begins in areas of the state, the Delaware Soybean Board (DSB) encourages farmers entered in the Delaware Soybean Yield Contest to complete entry yield checks.
"The goal of the contest is to discover varieties and management choices that work for soybean growers in Delaware," states DSB Chairman Cory Atkins. "For this reason, it is important to collect data from all farmers entered in the contest."
The 2020 contest will recognize the top producers in the following divisions: full season soybeans, double crop soybeans, and new to the list, non-irrigated soybeans. One state yield winner will be awarded $1,000 in each of the three categories. County prizes of $250 will be awarded for the top placing entrants of full season and double crop categories.
"You never know, taking the extra time to complete the yield check could pay off," concludes Atkins.
The contest is open to all soybean producers in Delaware. Visit www.desoybeans.com/yield-contest to find more information on contest rules.
Delaware farmers plant about 160,000 acres of soybeans annually, producing over seven million bushels of beans and generating approximately $60 million in value to the state. The Delaware Soybean Board consists of nine farmer-directors and the Secretary of Agriculture. Funded through a one-half of one percent assessment on the net market value of soybeans at their first point of sale, the checkoff works with partners in the value chain to identify and capture opportunities that increase farmer profit potential.
###
For information, contact:
Rick Davis
Yield Contest Coordinator
443-735-7234
r.davisjr@comcast.net
Danielle Bauer Farace
Delaware Soybean Board
Executive Director
443-812-4526
Danielle@desoybeans.org