The Delaware Soybean Board has named Danielle Bauer as Executive Director effective October 1, 2019.
"Danielle's dedication to the agriculture industry is commendable," stated Delaware Soybean Board Chair Cory Atkins. "The Board of Directors is excited to have someone with her knowledge and passion working with our soy farmers."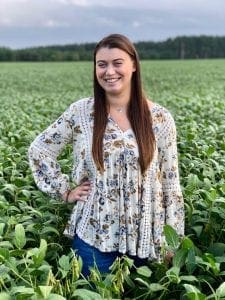 Previously, Danielle was with Thompson Ag Consulting as the Programs and Public Relations Director, where she worked with a variety of agricultural and natural resource organizations, gaining experience working with commodity groups and checkoff programs. She is a graduate of LEAD Maryland, Wheat Industry Leaders of Tomorrow, and completed the American Farm Bureau Federation's Communications Boot Camp.
A graduate of West Virginia University, where she studied agriculture and natural resources, Danielle returned home to her family's grain and livestock farm to make a positive impact on the local agricultural industry. Danielle is involved with her local Farm Bureau, County Fair, and Agriculture Education Advisory Committee.
"I believe strongly in the role our checkoff programs play in the success of our farmers," said Bauer. "We want to provide the best resources and services to our farmers, and I am thankful to have the opportunity to meet that mission every day."
Bauer replaces former executive director Susanne Zilberfarb, who served the Delaware Soybean Board as executive director for the last ten years and worked on communication projects during the decade prior.
"We want to acknowledge and thank Susanne for her hard work and commitment in building and growing DSB to what it is today," commented Cory Atkins, Delaware Soybean Board Chair. "Her initiatives have improved the soy community and we wish her well as she moves on to lead the Maryland Agriculture Education Foundation."
Delaware farmers plant about 180,000 acres of soybeans each year and the crop generates approximately $60 million in value to the state. The Delaware Soybean Board consists of nine farmer-directors and the Secretary of Agriculture. Funded through a one-half of one percent assessment on the net market value of soybeans at their first point of sale, the checkoff works with partners in the value chain to identify and capture opportunities that increase farmer profit potential.