Seaford's Cory Atkins Named to United Soybean Board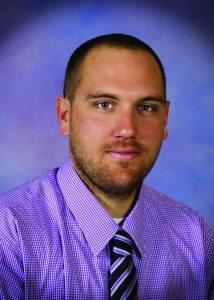 (SEAFORD, DELAWARE) – Cory Atkins of Seaford, Del., has been appointed to the United Soybean Board. He is one of 39 new appointees who will join 34 other farmer-leaders in directing soy checkoff funds toward research, marketing and promotion efforts that increase soybean farmer profitability. Atkins will succeed Dallas Wright of Millsboro in the position at his swearing-in during December.
"Soybean farmers are at the heart and mission of the soy checkoff," says Jared Hagert, USB chair and soybean farmer from Emerado, North Dakota. "To embody the farmer perspective, farmer-leaders from the soybean-growing region step up to volunteer their time and skills to maximize profit opportunities for their neighbors over the county line and across the country."
Atkins is a director on the Delaware Soybean Board. A former LEADelaware fellow, he was introduced to the soybean checkoff through USB's See for Yourself tour in 2012. After attending the National Biodiesel Board (NBB)'s Big Apple Bioheat Tour he became NBB director for the Mid-Atlantic Soybean Boards' membership.
He is a 2015 graduate of Syngenta's "Leadership At Its Best" program.
In 2016 Atkins was named the American Soybean Association's Conservation Legacy Award Winner for the Northeast Region. The Conservation Legacy Awards Program is a national program designed to recognize the outstanding environmental and conservation achievement of soybean farmers, which helps produce more sustainable U.S. soybeans.
Atkins owns and operates Cory's Produce, LLC., growing crops including squash, watermelons, lima beans, peas, sweet corn, field corn, soybeans and small grains. In addition, Atkins contracts for custom farming and grain hauling. He also is a Channel seed dealer.
Dallas Wright will continue to serve as alternate USB director. Wright, a longtime soybean leader, is a former Delaware Soybean Board director. Wright was a longtime member of the board of directors of the Mid-Atlantic Soybean Association. He also is a member of the Delaware Farm Bureau.
"Our sincerest thanks to Dallas and to Richard Carlisle, who served as Dallas' alternate director and who now retires from service," says Jay Baxter, a Georgetown, Del., farmer and chairman of the Delaware Soybean Board. "Serving in these positions demands time away from farm and family, and we appreciate what they have done to support our industry."
Delaware farmers plant about 180,000 acres of soybeans each year, and the crop generates approximately $60 million in value to the state. Delaware's agricultural industry contributes about $8 billion per year to the Delaware economy.
About the Delaware Soybean Board: The Delaware Soybean Board consists of nine farmer-directors and the Secretary of Agriculture. Funded through a one-half of one percent assessment on the net market value of soybeans at their first point of sale, the checkoff works with partners in the value chain to identify and capture opportunities that increase farmer profit potential. One-half of the soybean checkoff assessments collected by the state boards are forwarded to the United Soybean Board.
For more information about the Delaware Soybean Board visit www.desoybeans.org.
About the United Soybean Board: USB's 70 farmer-directors work on behalf of all U.S. soybean farmers to achieve maximum value for their soy checkoff investments. These volunteers invest and leverage checkoff funds in programs and partnerships to drive soybean innovation beyond the bushel and increase preference for U.S. soy. That preference is based on U.S. soybean meal and oil quality and the sustainability of U.S. soybean farmers. As stipulated in the federal Soybean Promotion, Research and Consumer Information Act, the USDA Agricultural Marketing Service has oversight responsibilities for USB and the soy checkoff.
For information contact:
Susanne Zilberfarb
Delaware Soybean Board
Office: (703) 437-0995
Cell: (410) 430-2613
susanne@hammondmedia.com