Sussex County Farmer Mark Collins takes top honors in Delaware Soybean Yield Contest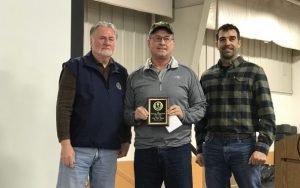 (HARRINGTON, DELAWARE) – January 11, 2018 – Mark Collins of Sussex County had the state's top 2017 soybean yield with 84.55 bushels per acre of full season soybeans. Collins planted Pioneer P41T65PR, a Plenish bean, which produces high-oleic soybean oil. Collins received $1,000 for highest yield in the full season category and an additional $500 for the state's top yield.
David Smoker of Kent County won the statewide double crop competition with 74.51 bushels per acre. Smoker planted Dobler 4817. As state winners, Smoker received $1,000 for highest in the double crop category.
The contest was created by the Delaware Soybean Board to gather data on practices incorporated in producing high soybean yields while recognizing the individuals who have achieved such yields. The awards were announced by Delaware Soybean Board chairman James "Jay" Baxter, a farmer from Georgetown during Agronomy Day at Delaware Ag Week in Harrington.
"We encourage growers to participate in the contest to make more production data available," stated Baxter. "We saw a 5% increase in contest entry yields from 2016 to 2017. Our goal is to see increased yields for all our farmers across the state."
County level winners received $250.Winners for full season soybeans included Charles Stites of Kent County with 82.74 bushels per acre; Jay Ellis of Sussex County with 78.03 bushels per acre; and Robbie Emerson of New Castle County with 69.89 bushels per acre. County winners for double crop beans included Robert Emerson of New Castle County with 67.50 bushels per acre, winning with the only non-irrigated entry; Frank Hrupsa of Kent County with 67.46 bushels per acre; and Beau Joseph of Sussex County with 67.09 bushels per acre.
Delaware farmers plant about 180,000 acres of soybeans each year, and the crop generates approximately $60 million in value to the state. Delaware's agricultural industry contributes about $8 billion per year to the Delaware economy.
The Delaware Soybean Board is funded by the national soybean checkoff program, which assesses one-half of one percent of the net market value of soybeans at the first point of sale. The Board consists of nine farmer-directors and the Secretary of Agriculture, and administers the federal soybean checkoff programs in Delaware supporting research, marketing and education programs to benefit the soybean industry.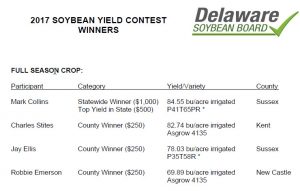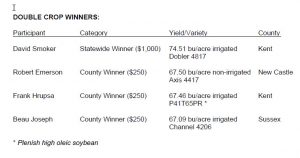 2017 DELAWARE SOYBEAN YIELD CONTEST
PURPOSE: The purpose of the Delaware Soybean Yield Contest is to gather data on practices incorporated in producing high soybean yields while recognizing the individuals who have achieved such yields.
ELIGIBlLITY: Any grower with a contest area (field) located entirely in the state of Delaware. Only one full season and one double crop entry per farmer will be accepted. Directors of the Delaware Soybean Board are eligible to participate.
CATEGORIES: A state winner will be awarded for both full season and double crop production. Full season and double crop winners will be awarded for each County. Any production method such as tillage and irrigation may be uses for either category.
RULES:
Application and payment of $30/entry must be received by September 30, 2016. (All checks should be made payable to Delaware Soybean Board)
Two acres in one block (example: 180′ x 484′ = 2 acres) within the physical boundaries of Delaware shall be selected by the grower. Test area may be measured after check. Harvested area must include complete passes through the field.
A designated representative – other than the grower and not affiliated with industry supplier or sales of Ag products – shall:
Measure the test area
Be present when the test area is harvested
Supervise weighing on state-inspected scales or approved weigh station. A weigh wagon can be used on site if needed.
Original weight ticket (no copy) attached to harvest form.
Sign the report.
Moisture content shall be obtained on a state-approved moisture meter.
Yields will be calculated on the basis of USDA No. 1 soybeans. Yields will be corrected on the basis 13% moisture and 1% foreign matter.
All yields exceeding 85 bushels will be required to be rechecked. Recheck must come from a continuous 2 acres directly adjacent to the original check. Supervising agent must be present for the recheck and use the same procedures as the original check. Results of recheck will be used as the official contest entry. Failure to recheck will disqualify entry.
Soybeans planted after 6/10 will be considered double crop.
PUBLICITY: Production practices used by participants may be published. Applicants agree to share production information.
AWARDS: All winners will be awarded at Delaware Ag Week. State winners are not eligible for county prize also. Each applicant upon completion of Yield Check will be entered into a drawing to be held on Agronomy Day at Ag Week in January to win a $250 Gift Certificate.
STATE FULL SEASON                                         $1,000
STATE DOUBLE CROP                                        $1,000
TOP YIELD IN STATE BONUS                              $500
COUNTY WINNER FULL SEASON                       $250
COUNTY WINNER DOUBLE CROP                      $250
YIELD OF 100 BUSHELS OR MORE AWARD