Creating a happier, healthier and more productive work force with the WPS
In 2015, the Environmental Protection Agency (EPA) revised certain requirements in the Worker Protection Standard (WPS) regulation that became enforceable in 2017 and 2018. The revised WPS regulation came about as an attempt to better protect workers and handlers from occupational exposure to pesticides, as well as to help reduce the number of preventable pesticide incidents and illnesses. By reducing pesticide exposure incidents, the long term goal of the WPS revision is to reduce lost wages, medical bills, and absences from work which in turn creates a happier, healthier, and more productive work force.
The WPS is a regulation issued by the EPA in 1992. This regulation is primarily intended to reduce the risks of illness or injury to workers and handlers resulting from occupational exposures to pesticides used in the production of agricultural plants on agricultural establishments (i.e., farms, forests, nurseries, greenhouses, etc.). Workers are generally those individuals who perform hand-labor tasks such as harvesting, thinning, and pruning in pesticide-treated crops. Handlers are those individuals that are in direct contact with pesticides with activities including mixing, loading, or applying.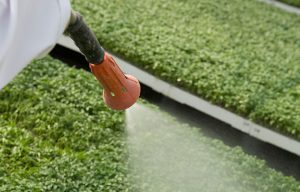 You must comply with the Worker Protection Standard if:
You own, operate, or are employed on
any farm, forest, nursery, or greenhouse where pesticides are used in the production of agricultural plants;
You hire or provide employees for any agricultural business which uses pesticides; or
You or anyone you employ is a certified/licensed crop advisor.
The Delaware Department of Agriculture's Pesticide Compliance Section is tasked with enforcing the WPS regulation. Since the WPS is a Federal Regulation, the State of Delaware and other states must adhere to the regulation revisions.
As part of an ongoing education and outreach effort, the Department visits with the farmer on an one-on-one basis and thoroughly explains the rule changes as it relates to their individual operation. The Department of Agriculture also provides compliance assistance materials to the farmer, such as pesticide safety posters, training resources, application record binders & inserts, field posting signs, etc. Farmers, nursery & orchard operators, and any other businesses/operations that may fall under the jurisdiction of the WPS are encouraged to contact the Pesticide Section to schedule a compliance assistance visit to obtain more information.
Online resources to assist with WPS requirements can be found at the following websites:
Posted March 2018